Product Description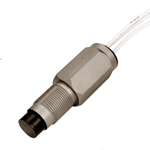 Representative picture
112FW12-4
Honeywell Microswitch
112FW12-4 is a micro
Datasheets:
Datasheet #1: 112FW124
Datasheet #2: 112FW124
Description
Environment-proof self-contained proximity sensor enclosed in a rugged stainless steel housing, designed to meet the requirements of aerospace, ordnance, marine, mass transit and high performance industrial equipment. Operation by the Eddy Current Killed Oscillator (ECKO) principle, which is used to detect metal objects passing in front of the sensing face. Once a target metal is detected, a trigger signal is produced which is then passed through the output conditioning circuitry to give a high or low output, depending on the sensor application.
Features
All Metal Sensing
Small housing
High level of electronics protection
Leadwire or connector termination
Factory mutual certified for Class 1, Division 2, Groups A,B,C,D.
Typical Applications
Aircraft landing gear
Gun turret position control
Door and hatch open/closed monitoring
Pricing & Availibility
Price: $4673.19
1 available to buy (in stock)