Product Description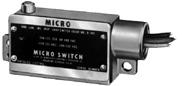 Representative picture
1LN4-5-LH
Honeywell Microswitch
1LN4-5-LH is a limit switch
Datasheets:
Datasheet #1: 1LN45LH
Datasheet #2: 1LN45LH
Description
MICRO SWITCH™ LN switches are designed to withstand rapid hammer-blow actuation. Impact on the actuating plunger cannot reach the precision switch unit inside. Individual seals around each leadwire and cover plate protect switch cavity from condensate, oil, and dust. Acutator position: The RH or LH suffix on the end of the catalog listing means the actuator is to the right or left side of the switch as viewed from the nameplate.
Features
Zinc die-cast housing
Will withstand impact actuation
Positioning dowel holes
SPDT or 2-CKT DB circuitry
UL Recognized, file #E12252
CSA Certified, file #LR41372
No. 14 type HWM wire leads, conduit hub seal
Conduit size 1/2 - 14NPSM
Sealed to NEMA 1, 3, 4, and 13
Typical Applications
Machine tool
Stamping machines
Applications which have shock/vibration present
Pricing & Availibility
Price: $1081.98
1 available to buy (in stock)