Product Description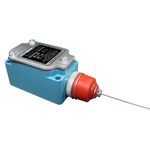 Representative picture
208LS125
Honeywell Microswitch
208LS125 is a limit switch
Datasheets:
Datasheet #1: 208LS125
Datasheet #2: 208LS125
Description
MICRO SWITCH™ compact LS and plug-in 200LS limit switches have a long record of successful performance in industrial applications. The MICRO SWITCH™ LS fits in many places too small for any other fully adjustable limit switch. The MICRO SWITCH™ 200LS switches are the original plug-in concept for reducing downtime by making changeover simple and fast.
Features
Mode of operation is field adjustable
NEMA 1, 3, 4, 6, and 13
Wide choice of heads and actuators
Variety of operating characteristics
Captive screws
UL and CSA approved parts available
Typical Applications
Machine tools
Conveyors
Material handling
Metal fabrication equipment
Lift trucks
Pricing & Availibility
Price: $613.80
4 available to buy (in stock)