Product Description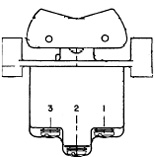 Representative picture
2TP1-10
Honeywell Microswitch
2TP1-10 is a rocker switch
Datasheets:
Datasheet #1: 2TP110
Datasheet #2: 2TP110
Description
MICRO SWITCH™ TP Rocker switches may be mounted flush with panel for a low-button profile or above panel for a distinct button appearance. Buttons measure 22,1 mm x 37,1 mm [.87 in x 1.46 in]. They are removable and interchangeable, and come in transparent plastic, translucent plastic, and six colors of opaque plastic. Switches without buttons are also available, as well as separate buttons.
Features
Environmentally sealed
Two and three-position pushbutton action
Various button colors
1, 2, and 4-pole circuitry
Flush panel and above panel mountings
Temperature range: -54 C to +71 C [-65 F to +160 F]
UL recognized, CSA certified
CE approved
Typical Applications
Industrial machinery and equipment
Military and commercial aviation
Marine applications
Construction equipment
Test instruments
Agricultural machinery
Process control
Medical instrumentation
Pricing & Availibility
Price: $253.44
1 available to buy (in stock)