Product Description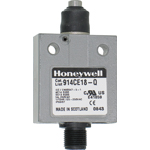 Representative picture
914CE18-3A
Honeywell Microswitch
914CE18-3A is a limit switch side entry
Datasheets:
Datasheet #1: 914CE183A
Datasheet #2: 914CE183A
Description
All MICRO SWITCH™ 14CE and 914CE series miniature enclosed switches incorporate fluorocarbon diaphragm sealing to provide reliable protection, meeting NEMA 1, 2, 3, 3R, 4, 6, 6P, and 13 as well as IP66, IP67, and IP68 requirements. Versions with boot seal also meet NEMA 12 requirements (dust, falling dirt, liquid media with solid contaminates). The cable or connector and basic switch terminals are encapsulated in an epoxy compound, offering superior resistance in harsh environments. For low temperature applications (down to -40 degrees C, -40 degrees F), CE switches can be supplied with low temperature seals and lubricant.The CE switches are a rugged and versatile switch which can be applied indoors in harsh factory floor applications, as well as on outdoor equipment in extreme temperatures. A full range of actuators are available, including plain plungers, roller plungers, side rotary, multi-directional wire, and manually operated. The switches are also available with the industry standard, M12 miniature 4-pin connector. The MICRO SWITCH™ 14 CE versions are designed for European applications and meet the requirements of the low voltage directive and therefore carry the CE mark. The MICRO SWITCH™ 914CE products meet UL and CSA standards, as well as European CE requirements.
Features
Compact construction
Pre-wired or connector versions
Die-cast Zinc housing
Wide selection of actuators
Gang mounting capability
Cable length variations
Side and bottom exit cable/connector
Simple two-screw mounting
Low temperature variants
Fluorocarbon sealing (standard)
Typical Applications
Processing Equipment
Textile Machinery
Machine Tools
Robotics
Packaging Equipment
Farm Machinery
Commercial Laundry Equipment
Printing Trade Machinery
Vehicles
Pricing & Availibility
Price: $321.06
2 available to buy (in stock)