Product Description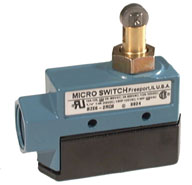 Representative picture
BZE6-7RQ8
Honeywell Microswitch
BZE6-7RQ8 is a micro switch
Datasheets:
Datasheet #1: BZE67RQ8
Datasheet #2: BZE67RQ8
Description
MICRO SWITCH™ E6 (side mount) and V6 (flange mount) switches are offered with or without actuator seal boots. Both have a combination insulator/seal cemented inside the bottom enclosure. Lead washers are used to seal the mounting holes on side mount switches. All side mount switches are installed with #6 screws, except the BZE6-2RN7 (#8 screws). Removal of the bottom enclosure exposes the terminals for easy wiring.
Features
Side or flange mount
Momentary or maintained contact
Grounding screw
High capacity (22 amp) available
Temperature range -32 C to +71 C [ -25 F to +160 F]
Zinc Die-Cast housing NEMA 1
UL Recognized, file #E12252
CSA Certified, file #LR41372
NEMA 1 /IP40
Pre-leaded or connector termination options
Typical Applications
Packaging equipment
Special machinery
Textile machinery
Conveyors
Construction machinery and equipment
Printing trades machinery
Overhead cranes and hoists
Pricing & Availibility
Price: $305.19
1 available to buy (in stock)