Product Description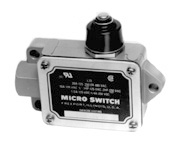 Representative picture
DTF2-2RN-LH
Honeywell Microswitch
DTF2-2RN-LH is an enclosed basic switch
Datasheets:
Datasheet #1: DTF22RNLH
Datasheet #2: DTF22RNLH
Description
The elastomer boot on sealed actuator verions protects the actuating mechanism and the internal basic switch from contaminants. There is a seal gasket between the cover plate and the enclosures on all versions. The cover plate is removed for ease of wiring and switch replacement without demounting the switch. The actuator position is designated "right" or "left," when looking at the nameplate.
Features
Up to 20 ampere capacity
Cast aluminum housing with three-hole mounting
Right or left-handed (sealed or unsealed) actuators
Cover seal, captive cover screws
Momentary or maintained contact
UL recognized, file #E12252
CSA certified, file #LR41372
Sealed to NEMA 1, 3, 4 and 13 requirements
Grounding screw
Typical Applications
Packaging equipment
Special machinery
Agricultural machinery
Conveyors
Overhead cranes and hoists
Pricing & Availibility
Price: $739.20
2 available to buy (in stock)